About Us
How Kitchen Knives Are Made (creation-in-fire)
How Kitchen Knives Are Made (creation-in-fire)
When you think of "blacksmith," the first thing that may come to your mind is a scene of "fire".
The "fire" that forges steel is called "creation-in-fire." It is a process in which roaring red massive steel, which is heated at close to 1000 °C, is formed into a knife by simply "hammering" through experience and technique.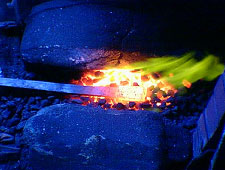 Cutting out material
Originally, material for kitchen knife is shaped in a long board. It is reddened in the kiln, and when it is softened, it is cut out into a necessary size per knife, by using a "chisel" and a "hammer."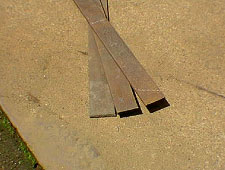 Cutting out material
Forge welding
Generally, "stainless" and "steel" cannot be joined easily. Therefore, by using the technique of "forge welding" used by blacksmith, "stainless" and "steel" are joined firmly.
First, the cutout material is formed into a 3-layer structure, in the order of "stainless" + "steel" + "stainless."
A chemical called "forge welding material (borax)" is placed between each material, and the cutout material is placed into the kiln (850-900 degrees) to make it red. Hammering right after makes each material joined firmly.
Forge hammering
Forge welding and hammering are carried out simultaneously.
<<Forge welding stage>>
First, by hammering material, 3 sheets of materials turns into 1 sheet.
<<Forge hammering stage>>
Next, the material that has turned one turns into a stronger material by hammering further. During this process, "komi (dent)" area is formed in the material, and the shape and the thickness are adjusted for the desired knife.
The way massive steal turns into the shape of a knife simply by using a hammer is really like watching a mysterious and enchanting scene of Japanese "candy sculpting."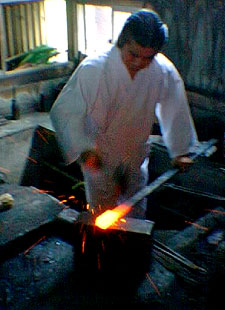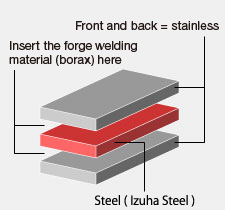 Shearing/marking off
"Shearing" is the work to cut off excess parts in order to turn the knife formed through the "creation-in-fire" process into the form of a product. By placing a "template" onto the knife having excess portions attached to it, the shape of the knife is marked off with a tool called "marking-off stick."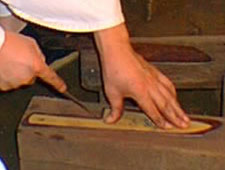 Shearing/Oshikiri (pressing and cutting)
With a tool called "Oshikiri," the knife is sheared (cut) along the marked line. It may sound somewhat strange to cut a "cutting knife" using a "cutting knife."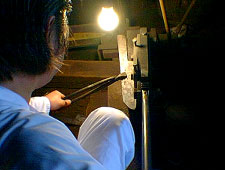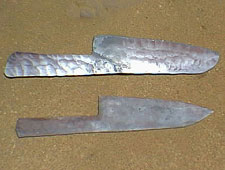 Smoothing/forming shapes
Since the knife is strained immediately after the cutting process, it is placed in the kiln once (600-650 degrees) to eliminate minor strains by hammering.

A grinder is used to adjust the shape of the knife in order to finish up fine lines that could not be removed with just the "Oshikiri", or in order to remove burrs caused by the "Oshikiri".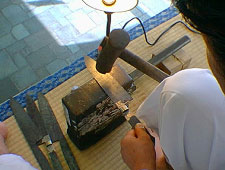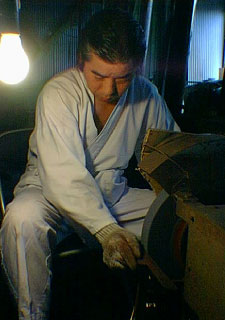 Guard welding/fairing
The area shown in the photo on the right is called the "guard".
Because this type of workmanship cannot be implemented during the "creation-in-fire" stage, it is attached after the main body is faired. The guard is formed in its shape by welding stainless blockish material to the location at which the guard is to be attached.