About Us
How Kitchen Knives Are Made
(Sharpening - Completion)
Sharpening
A "blade" is attached to the knife treated with fairing and heat treatment. During the "sharpening" process, a big rotating grinding stone called "water grinder" is used to sharpen the knife while running the water onto it, while ensuring that the heat is not applied to the steel.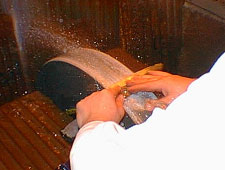 Rough grinding /steel exposure
With a coarse grinding stone, the blade grinding starts. The shape of a blade (cutting edge) is formed at this stage. Rough sharpening scrapes the "stainless" part on both the front and the back sides, and exposes the "steel" in the center.
Since the "blade" is to be created by scraping a very stiff metal after the heat treatment is complete, although the water grinder is used, it is a physically demanding work.
Because it is not polished automatically by machine, considerable skills are required to obtain the evenness of steel.

Fine grinding
A grinding stone called "Omura Stone" removes the remaining grinding lines of the water grinder caused by the "rough grinding."
The remaining lines of grinder caused by the "rough grinding" are very coarse, and this does not provide an excellent edge for cutting. Therefore, a finer grinding stone such as "Omura Stone" is used to finish up the surfaces on which grinding is carried out.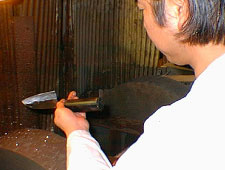 Attaching a handle
A "handle" part is attached to a completed knife body. The "handle", made of strong material that is resistant to decay by water, etc., is attached by a swage to the grip area of the body, called the "tang."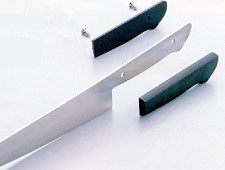 Finish/final grinding/completion
Although the condition of fine grinding provides a blade with a good "cut," the "final grinding" provides the knife with the best cutting edge. This is the work to make a very sharp blade by using a very fine and smooth grinding stone. The blade after the final grinding provides you with a very sharp cutting edge, so sharp that you can even shave your beard.