Reviews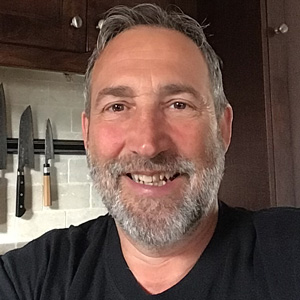 Kitchen Knife Smithing Experience
Please tell me the impression of Smithing Experience.

I Loved it! Master Fujiyama was very personable and patient. His sense of humour was wonderful. The hospitality shown to us from the moment we arrived at the shop was second to none.

What was the main reason for choosing our product?

6 years ago I began a search to buy a Japanese made knife. I went to knifeworks in Vancouver where I live. I had them place all of the Santoku style Chef's knives out on the table. Over the next 90 minutes I weighed each knife in my hands, felt the balance and balance points and general feel. I selected the Fujiwara.
Then I had them bring out their stock of the Fujiwara knives. Using the same process I selected the Santoku knife that I now have. After working with your knife over the years I knew that I needed more.

Compared to our competitors, how do you rate our product quality?

I have not used many other Japanese knives other than my own. People in Canada protect them and they are not something you would ever ask to borrow. I can compare the look of the Fujiwara knives to other - I love the classic hand forged styling. Guests at my home always comment on the beauty of the knives.
I can also compare that friends who have Japanese knives complain that they lose the edge or chip the edge; I cannot say that that has been a problem for me. I am quite surprised, given the amount of use, the length of time I have retained a razor sharp edge.


Were there any concerns before purchasing, or what you were expecting from our product?

None; having already owned one of your knives I knew I was buying a quality product. My biggest problem at the shop was deciding on which ones to buy.

Have you resolved the above concerns or expectations?

Haha Yes, You were an awesome salesman and let me look and handle many different styles and handles. In the end, your efforts made the selection was easy.

How would you describe if you will introduced us to your family or friends?

Craftsmen, Professional, Friendly, Welcoming, a True Quality product.

Please tell me if you have any other comments or opinions that you can share with us.

Yes, that our visit to your shop was one of the highlights of our trip to Japan and should you visit Canada I would love the opportunity to visit with you again.