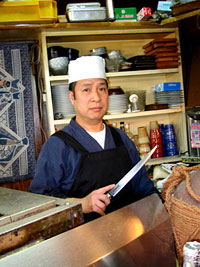 Which Fujiwara knife are you using?
Right now, I am using Gyuto, Usuba and Yanagibe knives.
What made you use Fujiwara knives?
I believe the same applies across the chefs' world. Because we respect our boss and because we want to obtain the skills as close as theirs, naturally we tend to use the same knives as those that our bosses use.
I was using a different knife when I was young, but one day I realized there was a shop that carried Fujiwara Edged Tool Craft in my neighborhood. On my way home after carrying Mikoshi at festival and paying a visit to the shrine, I just happened to drop by the shop. The knife I purchased there was my first knife that I purchased at my own discretion, and it was a knife from Mr. Fujiwara.

What is your impression of Fujiwara knives after using the products?
First of all, it fitted me nicely. I felt as if I was integrated with the knife…
As you know, there are hard knives and soft knives, but the one I have is neither too hard nor too soft. As I mentioned earlier, in the cooking world, depending on restaurants, the shop where you buy your knives are already pre-determined for you. So when I got out of this tradition for the first time, I was able to have the opportunity to meet my "knife that fits me well."

Before that, I was very particular about cooking, of course, but I did not have any particular thoughts about knives. Once I started using Fujiwara knives, I have been paying a lot more attention to kitchen knives. And now I am even thinking about buying Usuba… So you can tell that I am really hooked (laughing).
Now, I feel a sense of reassurance that as long as I have these knives, nothing can go wrong.
I believe the thought that Mr. Fujiwara seeks the kitchen knives to make professionals satisfied and happy matches well with my thought that I would like to create dishes that make people feel happy.

Do you have any wishes or requests for Fujiwara Knives?
This may be my particular opinion, but I am using my old Usuba knife that I have used for a long time (and now it is shorter) as a paring knife. The handle size is bigger than other ordinary paring knives, and personally I love it. What about making this kind of knife? (laughing)